AutoCheck.com Review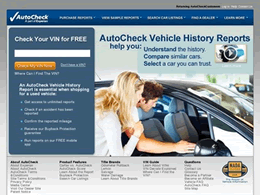 A part of the credit reporting bureau Experian, AutoCheck provides an up-and-coming vehicle history report provided. The data comes from Experian, a trusted automobile data provider. The company provides 7,000 dealerships with the same information you can find in their reports. You will know what the experts know. The company also compares itself to competitor in the following way:
Exclusive data: Exclusive auction frame damage.
Value: Superior value with single reports and unlimited reports.
2x the reported accidents:2X the reported accidents than compeditors.
Autocheck score: The only report with a score, which helps make your report easier to understand. You can also use it to easily evaluate and compare vehicle histories.
The company delivers information solutions to manufacturers, dealers, finance and insurance companies, and consumers alike. The service provides is an indispensable part of the used car shopping process.
*Descriptions provided by websites and not an endorsement by PeopleSearching.com
3 User Ratings:
Mercedes-Benz -

0 of 0 people found this review helpful.
The only information give was title checks and weather or not it had been in an accident (pretty vague. Nothing about listed options such as a window sticker. I really wanted to know more about the car that I purchased beside this.
mark hanna -

0 of 0 people found this review helpful.
the worst-you guys are negative 10.how dare you be in the credit rating business.
Chris -

0 of 0 people found this review helpful.
AutoCheck is great. It offers everything that CARFAX does for a cheaper rate. Reports look very similar to CARFAX. Unless you just enjoy spending more money I suggest using AutoCheck!