CarFax.com Review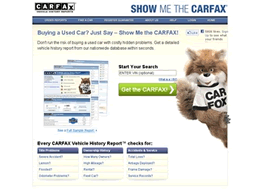 This company has been giving consumers the history reports of vehicles for years. If a purchase of a used vehicle is in your future, a CarFax report is a must. The report provided by the company contains the following information:
Title information, including salvaged or junked titles
Flood damage history
Total loss accident history
Odometer readings
Lemon history
Number of owners
Accident indicators, such as airbag deployments
State emissions inspection results
Service records
Vehicle use (taxi, rental, lease, etc.)
CarFax trys to protect its customers beyond the "lemon laws" of US States. What sets them apart from other vehicle history reporters? They claim to offer the largest and most comprehensive vehicle history database in North America.
*Descriptions provided by websites and not an endorsement by PeopleSearching.com
1 User Ratings:
Sharon Wilbur -

0 of 0 people found this review helpful.
Carfax doesn't list options on the vehicle, but does give a history of ownership and issues.