CellPhoneRegistry.com Review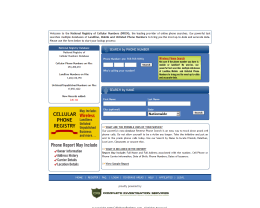 The CellphoneRegistry.com, also known as the "National Registry of Cellular Numbers", is a provider of online cell phone searches. The CellPhoneRegistry.com offers a service that accesses databases of land line, mobile, and unlisted phone numbers. The database includes information on phone owners as well information including: address history, carrier details, and location details.
The site has over 1,600,000,000 searchable records, recently adding another 245,000. This way the site's cross-database reverse phone search can help track down lost calls and prank callers. The "Search By Name" option enables users to find long lost relatives, lost loves, and old classmates.
*Descriptions provided by websites and not an endorsement by PeopleSearching.com
6 User Ratings:
Roy -

22 of 36 people found this review helpful.
False advertisement and a complete scam. After you pay it takes you to a different web site with no cell phone search options.
daniel patlan -

4 of 12 people found this review helpful.
i am trying to find out a cell number that call pravit
Don -

26 of 45 people found this review helpful.
Horrible website. Confusing to use. You have to 'charge up' your account with cash to search. If your search results bring up with more then one person with the same name, you have to pay for each one till you can figure out the right one. Even then, you will not know if they even list a phone number or background history until AFTER you pay. If no phone number is found, too bad. Complete scam.
Bea -

5 of 8 people found this review helpful.
Phone number scan is a Scam!!! Its way past the 60 days havent heard from anyone yet!!!! 0 star rating
john -

6 of 8 people found this review helpful.
this really sucks. You people are full of it. None of these searches are free. You should be sued for false advertisement!!!!!!
rita -
9 of 13 people found this review helpful.
i need to locate this person as soon as possible