CourtRegistry.org Review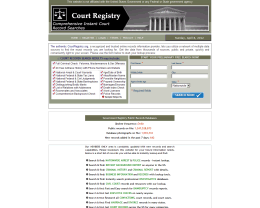 CourtRegistry.org puts court records at your finger tips by offering users a complete network of data providers, allowing them to find the exact record searchers are looking for in one place.
The database is constantly being updated and it is considered a well-recognized and trusted resource. The website is not affiliated with the government or any of its agencies, however the network of thousands of data sources are still precise and fast. Your search will include fields that are dependant on your particular lookup category and subject. The member's area is constantly updated with new records and new capabilities.
*Descriptions provided by websites and not an endorsement by PeopleSearching.com
1 User Ratings:
james -

0 of 1 people found this review helpful.
Includes a sex offender registry