CreditReport.com Review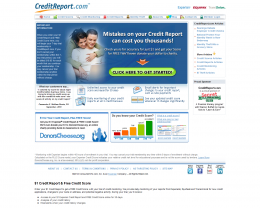 Creditreport.com draws from the three main credit bureaus and gives the user a 30-day free trial to access their credit score and respective report, after which the service continues for $12.95/month.
The service also sends e-mails to you when there is a significant change in your credit reports or score. The site also offers 3-Bureau credit reports with 3 separate credit scores. The site now offers a free credit score app for iPad and iPhone users. Credit Report also provides a number of articles to assist you with better managing your credit. You can also sign up to receive their monthly newsletter.
*Descriptions provided by websites and not an endorsement by PeopleSearching.com
1 User Ratings:
Carlos -
0 of 0 people found this review helpful.
In most cases they do check credit when a cumtesor calls and request a lower rate, which is typically reserved for very well established cumtesors. They also check to see if you have taken on substantial new debt, had excessive inquiries, or fallen behind on existing debt.Hope this helps