CriminalBackgroundRecords.com Review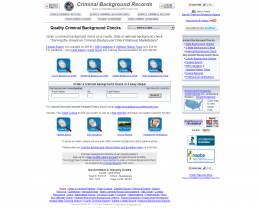 CriminalBackgroundRecords.com has been helping others lookup background records since 2003. Criminal background checks are priced affordably starting at $24.95. The website is a BBB accredited business.
The site also offers Instant state criminal background checks, 3 state criminal background checks, and national criminal background checks of varying prices. There is also a non-instant 7 day order lookup as a free member, which will be saved for 60 days.
Visit CriminalBackgroundRecords.com
*Descriptions provided by websites and not an endorsement by PeopleSearching.com
2 User Ratings:
Stacey -

0 of 0 people found this review helpful.
Im happy I found the following site, My spsoue and i couldnt track down any awareness on this subject in advance of. As well cope with a site as well as if you wish to actually considering a little bit of invitee composing personally it is best to twenty-four hours a day move it, instant messaging always look for those to look at my personal web page. You should visit by leaving any thoughts sometime!
Ukwanni -

0 of 0 people found this review helpful.
This site was not at all useful unless you happen to have the date of birth of the person in question already. There are ways to locate such info before hand, but that is time consuming all by it self. Not the sort of thing you want to add to the mix if you want to get your searches over on the quick!