CriminalSearches.com Review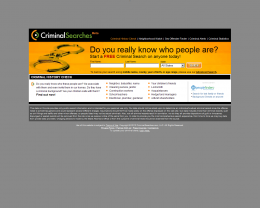 CriminalSearches.com is a free service that allows you to search for criminal records by name and location. This is is designed and run to help you make informed decisions on hiring babysitters, cleaning services, tutors, or even finding out the "real" person who is teaching your kids or living next door.
The results include the location and offense for each incident. You can also find the birth date of the person you are searching for.
*Descriptions provided by websites and not an endorsement by PeopleSearching.com
6 User Ratings:
IRONHORSE -

1 of 2 people found this review helpful.
THIS SITE DID NOTHING BUT SHOW ME A LIST OF NAMES THE SAME AS ENTERED THEN UPON CHOOSEING ONE IT BROUGHT UP BILLING INFO FORUMS I WOULD GIVE THIS SITE MINUS STARS IF I COULD
Listed as a criminal by mistake -

110 of 114 people found this review helpful.
The data on this site provides only public record information and is intended for your personal use only. Our data should not be relied upon to determine an individual's actual criminal record. -- Expunged or sealed records will be removed from the site once we receive notice of the same from you. criminalsearches.com/help/contact.aspx
lola roster -

4 of 7 people found this review helpful.
Are there any criminal ecords on this website?
Timothy R Harris -

3 of 7 people found this review helpful.
criminal search of arrest records misadameaners to felonies
christina m allen -

3 of 4 people found this review helpful.
i was lookin for a case that happened in 09 of theft at iga in rockville indiana its supposably federal
frightened job seeker -

2 of 2 people found this review helpful.
I informed them that they are listing me as a criminal based on a very minor traffic ticket, but you cannot know that by looking at their website, and other websites use their data. After this caused problems for me, I notified them but they have done nothing yet.