Email-411.com Review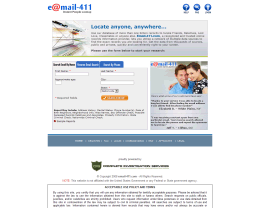 Email-411.com is a people search and records search site specifically designed for email address searches. With over 1 billion records, Email-411.com's database makes it easy to locate friends, classmates, lost loves, relatives, or anyone really. The site is a trusted and recognized resource for finding records, both private and public, in a timely and convenient manner.
This site offers a handful of different people searching options but specifically promote the email address search capabilities. The site can be used to lookup both email addresses and also find someone using an email address.
*Descriptions provided by websites and not an endorsement by PeopleSearching.com
1 User Ratings:
Jake -

17 of 29 people found this review helpful.
Pretty good, wish it was free though.