GovernmentRegistry.org Review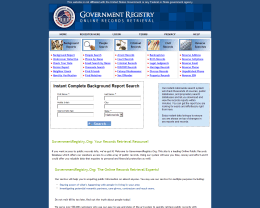 GovernmentRegistry.org is an online records service, offering access to a wide variety of public records. GovernmentRegistry.org specializes in helping people stay aware of who is in their area and help them to investigate anyone they are suspicious of. The services provided by the site are guaranteed in complete privacy. Retrieval of the information you are looking for is very fast and easy.
The Government Registry offers guaranteed satisfaction and data access which is continuous with a membership. The registry holds background reports, people searches, criminal records, civil records, and reverses searches.
*Descriptions provided by websites and not an endorsement by PeopleSearching.com
7 User Ratings:
shirley -

4 of 4 people found this review helpful.
Are these ratings a joke? People you are to rate the usefulness of this site from your own experience. Not leave requests for help. Unbelievable!
Ellen -

6 of 7 people found this review helpful.
This site was a rip off. Old info and didn't provide anything for the $50.00 they charged for their search fee. Don't do it!!
Barbara -

1 of 4 people found this review helpful.
I was adopted and I would like to find my real family I have 5 brothers that I never seen and I would like to see them and my natural mother. I spoke to my mother when I was 18 and at that time she was in Tennessee . I was placed in foster care at 18 months and me and my sister was adopted in the same home. Now I'm 36 and have 2 children of my own PLEASE HELP ME! -Barbie
Before -

5 of 11 people found this review helpful.
My stars people. You find information about your birth at the hospital and/or county where you were born. You find out when your house was built at the building dept in your county. I don't think you realize how to use this site. It is mainly for finding out information about PEOPLE and their past. Period. Good grief.
Tiffoney Greene -

13 of 17 people found this review helpful.
Hi, I'm Tiff and I had a person stalking me online and was very rude and lude~! With verse lookup I was able to take their email, find out where they live and place charges in him 2 states away for harassment~! Thanks Guys~!
Maggy -

58 of 127 people found this review helpful.
This site has soo many searches. It is everything I needed and more.
brande -

21 of 39 people found this review helpful.
it used to many sources that are unreliable