Omnitrace.com Review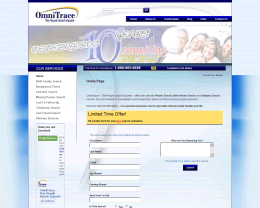 Omnitrace.com is a people search company with over 15 years of experience. The site contains a network of investigators that help them to find missing people. The service has been used by attorneys, adoptees, fortune 500 companies, and even private investigators.
*Descriptions provided by websites and not an endorsement by PeopleSearching.com
6 User Ratings:
Lee -

0 of 0 people found this review helpful.
All that they did for me was get my non-identifying information from the state and that cost me 1400.00 when it could have been gotten for free. I was told over and over again they are still working on my case and no one really believes after 6-8 months that they are still working on my case. After I stopped asking them, I never heard back from them again. Well, After two years of them working on my case, I spoke with a private investigator and gave her my info that they were also given and two days later found out Birthmother, grand parents etc. I am glad it worked out for some of you but my experience was a joke. I am sure if I contacted OmniTrace I would be told that the investigation is ongoing and they are "working on it" Feel that if the info is not clear and to the point then they can't do as much as others. You can get your non-identifying info for free people and sometimes it gives you names, dates etc so do your own homework first.
Puck -

1 of 1 people found this review helpful.
After speaking with the owner of Omnitrace he agreed to draft a '??No-find, No-fee'?Ě contract. After repeated attempts to get the owner to send to me the agreed upon contract terms he has yet to draft the contract . . . months later. Do not do business with this company.
Trudi -

0 of 0 people found this review helpful.
I contacted Omnitrace to try and locate my birth monther. I gave them all the information that I had. Within 3 weeks they had a contact name and address for me. I took a leap of faith and sent a letter. Within 4 days my birth mother called me and I was able to get all of my medical information.
Brian T. -

40 of 58 people found this review helpful.
I contacted Omnitrace back in August 2007. I finally decided to hire them in March of 2009. After about 8 months they told me they found a possible birth mother match are were attempting to contact her. After receiving no responses they forwarded her information onto me. It turned out it was not a match. Omnitrace stayed with it and continued searching. This week (7/27/10) they called me to tell me they had found another match, and forwarded me the information. I attempted to contact my birth mother's brother. After talking with him he said he would try to contact his sister and pass along my information. Last night she called me and was able to verify my birth information. Throughout the entire process, the people at Omnitrace were wonderful, caring, and considerate. Thank you again Omnitrace!
C Lindsey -

1 of 3 people found this review helpful.
My experience with OmniTrace was extremely negative & a waste of time & money. I began a search for my biological family in 2008 & after waiting over a year with very little communication from them, they sent a letter closing my case. I feel that the clues they followed from my non-identifying information were totally erroneous & a waste of time & that there were blatant clues that were not researched. I wish I had read reviews online about OmniTrace before I spent the money for their 'services'.
KM -

1 of 2 people found this review helpful.
I would never use OmniTrace again. I have to agree with the other reviews, they were not helpful and basically provided me the information that I was able to gather from the internet for free or a nominal fee. I was looking for information on my birth mother and they provided information on her ex-husband. When I further explained that I was not getting the information that I requested, I was told that I was receiving information on a family, just not the family that I was looking for. I think that tells you all you need to know about this organization. Save your money and do the research yourself.