OneGreatFamily.com Review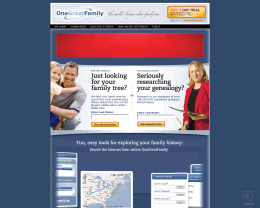 OneGreatFamily.com is genealogy site that helps you search for ancestors and build a family tree once you have fond them. The service starts at $5.00 a month, offering an affordable way to research your family.
*Descriptions provided by websites and not an endorsement by PeopleSearching.com
8 User Ratings:
Cecilia Scott -

0 of 0 people found this review helpful.
NO STARS, THIS IS A RIP OFF!!! THIS COMPANY IS A CON, DO NOT GET INVOLD WITH THIS COMPANY, THEY STEAL YOUR MONEY FROM YOU THATS ALL THEY DO!!! CUSTOMER SERVICE IS A JOKE!!!
Puntodewo -
0 of 0 people found this review helpful.
< What the finders found > Look, I don't know why you're lokoing for someone. And it's not really my business either.Maybe it's your 8th grade crush and you want to try and rekindle that middle school flame. Maybe it's your long-lost roommate from college that you shared way too much with over a few hundred beers and you want to singlehandedly prop up the again. Maybe it's that jerk former coworker who never paid back that $10 you loaned him for lunch that one time, and you want to track him down and break his kneecaps. a0(Okay, maybe I don't condone the last one. Openly.)The point is, sometimes you just want to find someone, right? That's why you're here. So how does one go about doing that? Well, there's alway the old standby for every search on the planet, , and the newbie upstart (from Microsoft). You'd be pretty amazed at what turns up there when you plug your own name into the search box on either of these comprehensive sites or the name of that guy/girl you're dating/living in sin with/married to. (Author's note: I'm not responsible for your breakup, attorney's fees, alimony or bodily harm for what comes from trying that.)Check out:a0But what do you do if the person you're lokoing for has a common last name or just doesn't show up in Google? (That may well indicate they've dropped off the grid and don't want you to find them, but that's another topic entirely.)The crew over at have collected several highly effective people search engines, including the frighteningly effective , which will give you names, adresses, and phone numbers.Honorable mentions go to which searches the deep web, sometimes finding results Google misses, as well as which searches multiple social networking sites at once, and , which turns up a lot of information on people in the corporate world. They also have some handy tips for improving your Google-fu skills to aid in your search and even a link to a Firefox extension that can help you out.So get out there and find your favorite homeroom note passer from 1993. Just don't be creepy about it, okay?More:a0 &a0
KLee -

0 of 0 people found this review helpful.
This is NOT really free. But it was really a big pain in the butt. thanks but no thanks.
steve -

1 of 1 people found this review helpful.
Did not find antything useful - online cancelation process not reliable - need to call to cancel
big guy -

0 of 0 people found this review helpful.
rip off city,,,do not,,i repeat, do not,,,log on,,,customer service leaves much to be desired,,,rip off max
Steve -

24 of 41 people found this review helpful.
Helped me build my family tree Just entered my name and my parents and it was able to merge and match names into my tree. Plus they have and advanced tool that works just like Family Tree Maker and roots magic. It is the best genealogy tool I have used.
Scott -

20 of 37 people found this review helpful.
I uploaded a small gedcom file that I got from my mother when she was using a program called PAF. Within a couple of hours, One Great Family was able to finds a number of matches and I was able to match ancesters all the way back to A.D. 1500. Great program and worth a try!
Patricia Nielsen -
8 of 13 people found this review helpful.
Helped me track a line back to Scandinavia. Really cool website and I highly recommend it for those just getting started with their genealogy.