People.Yahoo.com Review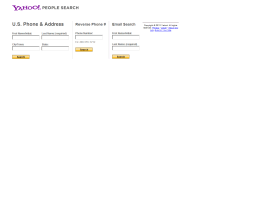 Free people search at Yahoo, the world's second largest search engine. Find people by name and get their phone number, address, Websites, photos, work, school, more with this search.
*Descriptions provided by websites and not an endorsement by PeopleSearching.com
5 User Ratings:
RHS -

0 of 0 people found this review helpful.
This site is useless. All they do is direct you to Intellus.com without giving you the simplist os information. Not so much as a phonr #
rick collins -

1 of 2 people found this review helpful.
i realy hope u can help me so i can stop searching for him the love of my life
Erin -

24 of 53 people found this review helpful.
Only works if they have a yahoo email or account :(
Armis -

19 of 39 people found this review helpful.
You can only find Yahoo Personal Members with this.
John Weemhoff -

166 of 250 people found this review helpful.
Yahoo people search is still available for FREE but it is somewhat hard to find. To find it do a search for "Yahoo People Search" at www.yahoo.com or if has not changed recently it will be at http://people.yahoo.com/ Gives good results on people who are not unlisted and has U.S. Phone & Address, Reverse Phone # and Email Search. Other good search engines are at http://www.anywho.com/wp.html and also the white pages nationwide at http://dexknows.whitepages.com/ both of which have reverse phone searchs all 100% FREE no signup or cost.