Radaris.com Review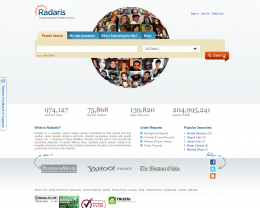 Radaris is a global industry leader with a collaborative search directory. Their search allows you to look, find and preview your results before deciding to purchase them. There policy is "No results-No Charge". Their search experience is completely tailored to meet the requirements of individual clients. With Radaris, you will find the most accurate, reliable and pertinent information on the web.
*Descriptions provided by websites and not an endorsement by PeopleSearching.com
1 User Ratings:
Sandra -

0 of 0 people found this review helpful.
I had a ton of success looking up a tenant on Radaris. I would recommend www.radaris.com