USA-People-Search.com Review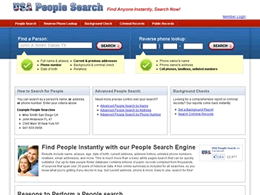 Find people instantly with the USA-People-Search.com people search engine. To search for someone by name city, state, age, or zip code. Searches start at just $1.95. You can also search by address and phone number. In some cases, the site can even return known aliases for a person.
*Descriptions provided by websites and not an endorsement by PeopleSearching.com
2 User Ratings:
Kim azzaraGarcia -

1 of 2 people found this review helpful.
I wld like 2 know specific info abt a cotpke peopke
Susan N -

0 of 0 people found this review helpful.
We paid for a complete history of an individual and the only thing the report showed was an address. I could have found that in a phone book. All other options came bacj N/A. What a waste of money! Don't use this site.