VehicleHistoryLookup.com Review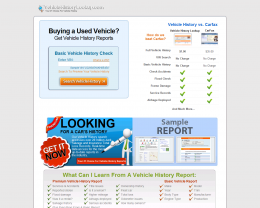 With information from the US Motor Vehicle Title Info System VehicleHistoryLookup.com works to help protect car buyers from purchasing unsafe vehicles. The website can provided information on automobiles manufactured in the last 30 years. To access the database you just need your car or truck's 17-character VIN Number and the website will use this to generate a history report.
Visit VehicleHistoryLookup.com
*Descriptions provided by websites and not an endorsement by PeopleSearching.com
1 User Ratings:
James McCarthy -

0 of 0 people found this review helpful.
It proved that the car was not in a flood, totaled and rebuilt, etc., and the the odometer reading is accurate.