Wink.com Review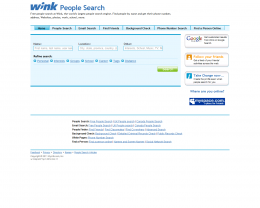 Free person search at Wink.com. With this site you can search for people by name, email address, or social media screen name. Wink has direct access to many of the largest social media sites online such as Facebook, Mylife, Myspace and more.
*Descriptions provided by websites and not an endorsement by PeopleSearching.com
2 User Ratings:
Darren -

0 of 0 people found this review helpful.
Great people search engine, tried to search and found several people there. Highly recommended.
Renee -

1 of 1 people found this review helpful.
They crawled my PRIVATE Facebook and somehow got into my friends list, which is also private. They now display my Facebook profile picture and show 4 of my friends with pictures and full names. I can't get them to remove this information! I wish there was a rating for 0 stars.