BackgroundChecks.com Review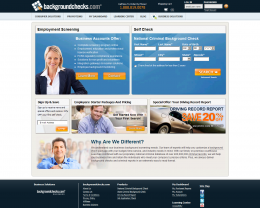 BackgroundChecks.com provides up-to-date public records and background information. Whether you need an employment screening solution or personal background search, you can use to perform the necessary search. The website offers a user-friendly web interface and does not require any sort of special terminals or complicated software.
The team will work with you to customize a background check package with your budget, time-service, and industry needs in mind. A check can be performed as a self-check prior to seeking employment, or for a job application in accordance with FCRA regulatory compliance. The site has made its 405,000,000 criminal and court house records and 5 million photos available for over 7 million performed searches this year.
*Descriptions provided by websites and not an endorsement by PeopleSearching.com
4 User Ratings:
Daniel Hogue -

0 of 0 people found this review helpful.
I can not believe that the word free really doesn\'t mean free, its hard for me not to be able to reach someone and choke them for having a free search when it is not . Thats false advertizing. they all should be arrested.
terry ayon -

1 of 1 people found this review helpful.
why do they say free when there not bull crap nothing is free
deedee -

0 of 0 people found this review helpful.
they said it was free but its no they always want a credit card nimber that mean its not free
James -

0 of 0 people found this review helpful.
I was hired by a company that used these people to do a check on me, the only thing they turned up was a citation by another person with my birth date and similar name that occured in a place I have never been in fact I was living 2000 miles away from that area at the time. I was refused the job