BeenVerified.com Review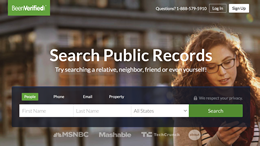 Unlike other people search and background check websites, BeenVerified.com provides its users with access to all of its searches.
New customers are encouraged to try the service where you will be able to perform searches of criminal records, who the individual in question is related to, and even who they live around.
Many other background check sites do not offer unlimited searches with their background check or people search products. Now, with BeenVerified.com, you can sign and begin searching today. whether you require multiple searches or just need one background check.
*Descriptions provided by websites and not an endorsement by PeopleSearching.com
28 User Ratings:
Bill -

9 of 15 people found this review helpful.
Found the person I was looking for but all the info was at least four years old. No help at all
Vi -

0 of 0 people found this review helpful.
Was able to find myself as well as look up family members. Signed up to test for three months and it was completely worth it. Saw all the reports that I needed.
greg -
8 of 13 people found this review helpful.
I don't know what everybody complaining about, I did the seven day trial an payed for a year. found out alota stuff about people an tracked down some people I was looking for. It says right on the website the criminal info is RAW DATA anmight not be right. what place has the right info on arrests, no one. im gona pay for another year an again will have no problem
Diana -
57 of 123 people found this review helpful.
While I admit some of the data is not quite up to date it is a great website. To those who have been charged some fee you had to have signed up for something third party somewhere. I paid a full year up front and was never charged anything but my first fee. Now, for those who can't find any info on certain people. You can only get data on people who have criminal records in counties that have their public records ONLINE. Say for example you know John Doe is convicted of murder in XX county in Ohio. If XX county does not transmit their public records online, then you will not get their details unless they are still incarcerated or on parole. The reason you would even be able to get it then is because they would should active through the ODRC website. I do agree though that their address system should update more often because even my address is way behind. (Not that that's a bad thing) :)
Kurt -

11 of 15 people found this review helpful.
I used my credit card for the 7 day free trial and when I cancelled after 5 days I wasn't charged anything, so no problems there. The data, on the other hand, was not acurate; I was listed with a middle name (I don't have one) and, even worse, a felony conviction (I don't have one of those either). They agreed to change the info but when I checked back 3 months later it was still there. I wouldn't use this site to verify any of my employees.
rscott -

42 of 80 people found this review helpful.
Just another out of date and inaccurate database,listed 4 addresses from 20yrs ago,3 were bogus,criminal background:skewd and inaccurate.Same bunk information published 20yrs ago from unknown sorce
mardigan -

5 of 6 people found this review helpful.
Ridiculus! The information on me is incredibly inaccurate. They even list my actual name as an alias. They list an address from 15 years ago, and none since then. Other sites at least get my name right!
Donna Johnson -

2 of 3 people found this review helpful.
Information was not accurate or up to date. I didn't call within the 7 day free trial, but called after I had been charged for 1 month. 2 months later, I realized I was still being charged $16 a month (even though I had already cancelled). When I called to (once again) cancel and try and have them reimburse me for the 2 months, I was hung up on, put on hold for 50 minutes and eventually never helped. Am anxious to see if I'm charged again next month...why shouldn't I be? All they have to do is say I never called.
Steven -

56 of 70 people found this review helpful.
I signed up for the 7 day trial and cancelled after 45 minutes. Old information and inacurate records.
BV Scam -

2 of 4 people found this review helpful.
Search for a few friends that definitely should show up on the site due to criminal history or whatever and they didn't appear at all in the basic search before they try to charge you. But my friends little sister did who has never had a job or been in trouble or anything.
Rob -

12 of 35 people found this review helpful.
It amazes me how some people get mad because you actually have to put a little effort into something for it to be free.
BeenVerified -

34 of 58 people found this review helpful.
I have looked up people that I know have records and none have come up at all. The lady I spoke to at BeenVerified said that if the court doesn't release the records then they never show up so theoretically you are not really seeing someones complete record. I tried to cancel and they won't even let me do that. The customer service stinks and it they believed in there product they would be okay with cancelling if someone was not satisfied with the service.
mike -

21 of 38 people found this review helpful.
I signed up and used it for the trial period. It was all really useless information that anyone can find for free with a quick search on google. It doesnt accurately show criminal records. But it did give addresses and telephone numbers of the names I ran. had no problem with them canceling and I havnt been charged a dime.
Heather M. -

6 of 6 people found this review helpful.
I didn't find out anything different than what I could find on my own.... signed up for 7 day trial... called the day it said to call before midnight. They said that it was yesterday I was supposed to cancel - got charged $8 for a huge rip off!!! DON'T DO IT!! You can find the same info they have for free!!!!!
John sullivan -

47 of 76 people found this review helpful.
The truth is, you dont have access to any real records of the person that arent already available at your county courthouse, and thats free.
Phritz -
61 of 114 people found this review helpful.
They provide a standard search and are not expensive. You cannot get a persons social security number there.
Nancy -

116 of 126 people found this review helpful.
Records were incomplete or wrong, not verified
Linda -

26 of 29 people found this review helpful.
This site doesn't even list my daughter as my relative or, conversely, me as my daughter's relative. That tells you A LOT about its accuracy!!
Sharlee Grimes -

6 of 16 people found this review helpful.
Best Place to go if you are wanting to check someone out you have met on a dating site
Janice -

9 of 43 people found this review helpful.
Found a long lost friend that I haven't spoken to in 20 years.
fondrees -

87 of 193 people found this review helpful.
good at finding recent phone's and addresses,but the criminal background check BAD, I've been arrested 5 times and none of it showed up.likewise 4 othr people i check who have criminal rercords
Kkbett -

5 of 17 people found this review helpful.
They ask for cc info almost any where these days. It is your responsibility to call and cancel beforethe "FREE"; is up. Read the terms. YES you can use their service for free with a valid cc, just cancel before your trial is up!! Very simple! I did it and not one single problem, just cancelled my trial in the time frame they said and bam! No charges at all!!!
Ed -

5 of 8 people found this review helpful.
This site is a scam. They require you to choose a payment option to sign up for the "free trial"; I canceled within 4 days however I was still billed the first months fee. I am currently disputing the charge with my bank.
chloe -

5 of 15 people found this review helpful.
Been Verified is a completely free site, I hate when ppl assume that there is a charge just because you have to enter a CC. They set it up that way for those that actually don't cancel during before their trail. Its an enrollment plan for those that like the site and want to enroll without a hassle. I am a member and BV did not charge me until I went over the trail and even after that happened. They worked out a great plan for me for $48/year any other place it totally costs $50.00 for one.
Beenverified.com -

15 of 30 people found this review helpful.
Inaccurate to say the least. I know of criminals who check out without a criminal record on this website, and those who have a traffic ticket are listed under criminal records. Also,there is no information on civil suits, which can tell a great deal about a person , such as divorce records, financial suits and so forth. You can get the goods on anyone for free, under county records, which has everything from property, traffic, criminal, bankruptcy, civil and so forth.
gg -

12 of 20 people found this review helpful.
I signed up for the 7 day trial and canceled the same day. You have to call them to cancel the service, but the number is easy to find on the site and it only took a few minutes to cancel. They didn't charge me for anything (not yet anyway - I'll check my statements later to make sure). The information I got was very inaccurate, with wrong ages, addresses, and criminal history listed for about half the people I searched for. I wouldn't rely on it for a background check. Most of the information they give you is already available online for free.
Erin -
22 of 58 people found this review helpful.
This is a site you really have to understand before just assuming how it works. After speaking with a rep I realized i was a bit wrong. Everything that is in the site is public information, you have to really learn your way around the site and sometimes not add a middle initial or city to find info, and in some cases after talking to my lawyer not everything in cases of jail and prison are public record this is agreat site for small search runs and backgroundchecks i found the social search works great found out my boyfriend was a part of sites i had no idea. The cost is low compared to other sites the trial was worth it.
Patrick Schmitt -

6 of 11 people found this review helpful.
I gave these guys a try and found their information to be inaccurate and the bad or wrong information multiplied. My girlfriend works for the county and we compared them and we decided that the Been Verified information was to inaccurate for us to use when we needed local or national information. Again the local didn't compare to her State database.