EmailTracer.com Review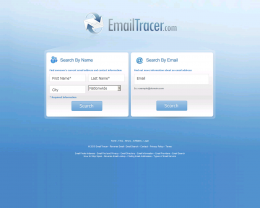 Sometimes you get these emails that, for whatever reason, do not ring a bell when you see who sent them. It could be business, it could be from a job interview and now you have no idea who the response is coming from. Fear not. EmailTracer does to this problem what dynamite does to bedrock.
If you know the name on the party and the city they are located, It easily finds you the corresponding email you need. On the other hand, if you have the email and need to find out what their name is and where they are from, it's just as easy there too.
*Descriptions provided by websites and not an endorsement by PeopleSearching.com
1 User Ratings:
bo dunson -

0 of 0 people found this review helpful.
Found the person and e mailed me