PeopleLookup.com Review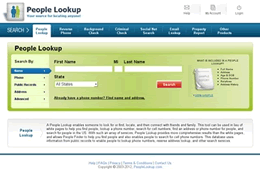 PeopleLookup.com lets you find, locate, and then connect with friends and family. It is a tool that can be used instead of those tedious white pages. It goes places white pages can't and gives you info they cannot. It will help you find people, lookup a phone number, search for cell numbers, find an address or phone number for people, and perform reverse number lookups and obtain background checks.
This service includes an individual's current address, phone number, age, birth date, household members as well as other information, including previous address(es), and relatives. A People Lookup report provides a consolidated view of the current and historical records to help decipher which person it is you are trying to find. This information comes from multiple public records.
*Descriptions provided by websites and not an endorsement by PeopleSearching.com
5 User Ratings:
Susan Heinzen -

0 of 0 people found this review helpful.
Don't waste your money. It will cost more to get any useful information.
Doug -

0 of 0 people found this review helpful.
This site is no help to anyone.Iwas looking for a free site and you lied to me.Remove yourself from this site. O STARS
Larry Grice -

33 of 86 people found this review helpful.
This is false advertising. Marion County said your site is free to search records."0" stars
allen -

53 of 96 people found this review helpful.
Bless all you people who exposed this scam. I was just about to give my credit card # to them and thought WHY do they need the number if its free?????Cant figure why the Federal TRADE COMMISION doesn't step in and put a stop to deceptive ads that is SAID to be free. If it was a upfront company and told the charge right off, I probable would have used them....S C A M
gators09 -

62 of 147 people found this review helpful.
this was one of the worst people lookup sites ive ever used. they tell you its free but its far from that. 0 stars!!