PeopleSmart.com Review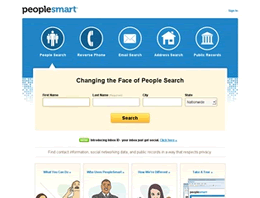 While PeopleSmart.com does offer single use people search & background check reports that is not their main focus. PeopleSmart.com feels that everyone should have access to unlimited people search and record checks and for that reason they offer unlimited annual access for $35.40.
The unlimited access is offer this with a free 7-day trial.
*Descriptions provided by websites and not an endorsement by PeopleSearching.com
23 User Ratings:
PB -

1 of 1 people found this review helpful.
DO NOT USE THIS SERVICE!!!!!!! THEY advertise that this is a free trial - beware- that when you see their 19.95 charge on your c/c even though you signed up for a one time only .95 cent use, they will continue to charge you automatically even if your block or cancel your card!!!!!!! Giving them your cc opens the door to your account and the bank will use whatever money you have for auto withdrawals!!!!!!! DO NOT USE THIS SERVICE!!!!!!!!!
Scott -

1 of 1 people found this review helpful.
They trap you with a quote;you must cancel or we will perpetually charge your card. Rep said they warn you of renewal upcoming, but said it likely went to junk mail. That's right, junk!
Pamela Alch -

1 of 1 people found this review helpful.
Paid $19.95 a search for liens against someone I knew had liens against them, I hold one of them. They came up with nothing. Obviously they do not have the access they claim. All they came up with was an address & phone number!!! Real SCAM
Unhappy -

8 of 28 people found this review helpful.
I supposedly had something in a town I have never been to, knew of, heard of etc., but had a felony record there. Sent a runner for the file but there was no file because there was no one there by that name. I still had to pay. This is a rip off. I ask them where they get this information (as to repair the notice of the record), but they played dumb,they just do not know where it comes from just a public site.
SY -

1 of 1 people found this review helpful.
Ripp-off - I signed up for a one time search and was billed 6 times. The operator was polite but nothing got done - don't use this service.
Jen -

1 of 1 people found this review helpful.
I did 1 search and in the 1 membership you sign up for, if you do not cancel within the 7 days, they charge you $42 and say you signed up for Peopesmart and Identity smart... I never read anything about identity smart. ....
Courtney -

11 of 13 people found this review helpful.
I looked up about 10-15 numbers of people I know including myself and not only was the information wrong it wasn't even close! The locations were wrong, the service providers were wrong, and they don't even give you the name associated with the number without money! DONT USE!!!!
pamela -

0 of 0 people found this review helpful.
tried the 7 day free trial. canceled before the 7 days was up and still got charged twice for 19.95!! called to get this remedied, but they refused to hear me out. I couldn't even get the info I was looking for anyway.
Lobeck -

0 of 0 people found this review helpful.
I signed up for what I thought was a one time search, lo and behold they attached an open account with my Pay Pal account, Their advertising for one time searches are confusing at best.Be careful for you will be signed up for a free trial which isn't free and hard to cancel at best and will cost you over $250.My search only got me outdated info addresses and work history as one said you would have better luck googling. Be wise & don't use!
Dick -

2 of 4 people found this review helpful.
I signed for the free trial and looked up some inforation which I haven,t verified yet. However I did pay the $.95 fee for another lookup. Acouple of days later I got a notice from PayPal that they had processed my payment for $19.95. These people should be put in jail ripping people off and false advertising.
Justin -

1 of 2 people found this review helpful.
I paid $60 for what I thought was 100% money back. The info was either wrong or outdated. I called to cancel and get my money back. Dwanisha told me I read the terms wrong. Dont waste your money with them.
Jose -

0 of 0 people found this review helpful.
The fee to get a phone number is $.95 which usually is an old number that is out of service. Once they have your credit card they will automatically charge you $39.95 suggesting you approved the charge. They will also say you approved future charges. It's just one big scam so don't waste your time or money with these folks.
Not a Happy Consumer -

0 of 0 people found this review helpful.
On a scale of 1 to 10 I would rate as a ZERO - if you have $39.95 to throw away each month more power to you!
Ted Johnston -

0 of 0 people found this review helpful.
Scam. >95 phone number look up w/ 7 day free trial. You think you are only paying.95 cents. And the you are charged $39.00 for an annual fee.
gio -

26 of 54 people found this review helpful.
Im looking for some one and i did 4 searches from her family and yes they have the information from these people, adresses, phone numbers, etc but all the information is like 5 to 10 years old, maybe they don't have autorization to give the actual information, but who pay to get old information? its stupid.
jen -

3 of 4 people found this review helpful.
Did a reverse phone lookup on a phone that kept calling me, found what I needed. Can't complain.
blah -

50 of 79 people found this review helpful.
If I could give zero I would. I signed up for the free trial. my first search went great. I got detailed information and went to search again, and the most important information needed more money. I tried to search for a few more people and the same thing. It looks like you are paying a subscription for the privilege to pay them more money per search. No thanks.
Angel -

43 of 70 people found this review helpful.
Someone's been texting me with a cellphone,but when I tried calling them back.,it's diconnected.So I did a reverse no check,peoplesmart said they found it. I signed/paid up, then a few seconds later, they said they didn't have it. FALSE ADVERTISING. I thought that was illegal.
Sharon -

47 of 78 people found this review helpful.
I did find some correct info when I ran a few family names under the FREE lookup, but am concerned about paying these folks anything to do my real searches, from what I've read in other reviews. Too bad...these guys seem to be the most up to date with their statistics of people.
Jim Smith -

11 of 18 people found this review helpful.
0 Stars tried 7 day free trial, on Oct. 6,2010 did a reverse # lookup, came back with no Info., but for a $1.98 charge to my cell phone,they could supply more Info. I then submited their MEMBERSHIP CANCELLATION REQUEST Form followed their instructions, cancelling membership, 8 days later my credit card was charged $35.40, Have tried to contact them, with no response. Don't give them your card #, cell phone # or anything else.
Chris -

10 of 10 people found this review helpful.
I paid $39.95 for a report only because I thought I would get additional services with my membership. The membership only allowed me to do searches you can do on the site for free and the report I got contained almost no information. Customer service was borderline rude to me when I called with my concerns. Don't give these guys your credit card #. They don't provide any information you can't get online for free.
chris -

10 of 10 people found this review helpful.
Today I searched for a phone number from a caller that has been bugging our home without saying anything or leaving message. The intial PeopleSearchPro result said "Owner results available..." So I entered my credit card information and was immediately charged the $9.95. So far so good. However, when I clicked the 'Submit Order' order button to view the details, I got a message that said in effect that information about that number was not available, but that they would credit my account with them with the same amount!!!! I did not know I would end up banking that amount with them, instead of getting a much desired information. I have called the credit card company to dispute the charge.
uzr -

4 of 5 people found this review helpful.
found the address i need from way back - for 2 bucks - helpful. not sure about their more advanced products tho