PhoneDetective.com Review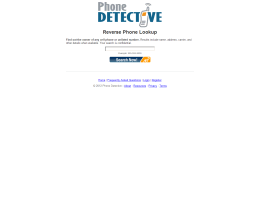 PhoneDetective.com focuses on reverse record searches, like reverse phone searches, reverse address searches, reverse email searches and more. As the name of the site indicates, reversing a phone numberfinds the owners names from a specific 10-digit phone number.
Individuals looking for a unlisted home phone numbers, cell phone numbers even fax numbers ReversePhoneDetective.com offers a access to this information.
*Descriptions provided by websites and not an endorsement by PeopleSearching.com
5 User Ratings:
Anonymous -

0 of 0 people found this review helpful.
The search I did brought up outdated information. I sent a request for a refund and they said sorry we can't help you. I sent a another request stating their website said if you could not find what you wanted there would be a refund (copied and pasted their info from their FAQ section) Then they finally said they would refund my money. I think it is very unreasonable I had to ask a second time for this. And my card still hasn't been credited but its only been a few days. Very poor business practices.
Robert -

12 of 26 people found this review helpful.
This is by far the best source for people search on the net, period. I have tried so many free and paid services within many months and nothing come close, trust me!
Tim -

10 of 22 people found this review helpful.
Used whitepages with little or no success. Seen all kinds of ads for reverselook ups and trusted a rating poll that gave 5 stars to your service. Signed up and had my results that I needed in a few seconds. Still a little skeptic I tried some look ups I knew just to see what your service had and I was amazed. Not only did I find what I knew but other information and the folk I thought I knew. I was so amazed I had my wife check it out and we ran one of her relatives names and she found out somethings she didnt know along with all information she did. By far this is a great service for the little time I have used it. Thanx for the good info.
Michael Evangelo -

19 of 43 people found this review helpful.
Actually, to give this program 1 star would be charity. All we wanted to do is find out who our daughter is talking to, using the phone bill. Out of 20 phone numbers to look up, it only found 2. And we already knew who they were. After not being able to provide any information, they attempt to sell you some tracing thing that costs nearly $5 a search. In my opinion, this program is a scam.
Horrible Service, Then They Try To Charge You More -

0 of 0 people found this review helpful.
This program was horrible. Their "100% money back guarantee" is a lie. It only finds things you can google for free, and if you want the real service they try to charge you an additional $10 each search.