PhoneRegistry.com Review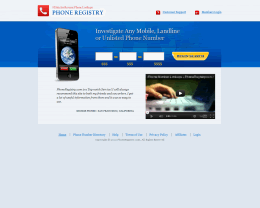 The PhoneRegistry.com offers information on who owns a phone number and public records available on that person. The site offers users access to search for both land line and mobile phone numbers.It gives users a "top-notch" resource for discovering information regarding a phone number, as well as customer support.
*Descriptions provided by websites and not an endorsement by PeopleSearching.com
1 User Ratings:
cornlius gorman chinle, arizona -
0 of 0 people found this review helpful.
was looking for my real father and his name is cornelius gorman..he went to school in chinle arizona and graduated evxx my mothers name is leigh ane salway and i was born may of evxx