eVerify.com Review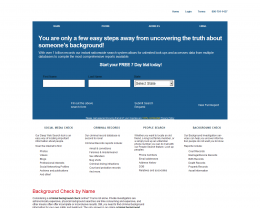 With eVerify's unlimited online background checks, you get answers to your questions on a person's background from the best industry and governmental information directories in existence. With a free trial membership,this group offers what many compeditors do not. Search results are comprehensive and complete, derived from updated information resources of governmental and private search listings, and are specialized in our four informative search options: people, background, criminal records, and social media.
What's more, members can stay abreast of changes in records through eVerify's state of the art public records search system. Search now with only a first name, last name, and state of possible residence; but please be responsible with information obtained through our search databases.
*Descriptions provided by websites and not an endorsement by PeopleSearching.com
1 User Ratings:
James -

9 of 14 people found this review helpful.
I could get that bastard that was harassing my family. I found his address and other background information by his phone number